All-In-One Battery Tester
Brand:
My Value Store
Product Code:
VSDX002
Reward Points:
10
Availability:
In Stock
Price:
Rs.449.00
Rs.399.00
Ex Tax: Rs.399.00
Price in reward points: 449
Stop wasting your money;
NEVER throw away good batteries again! Test them to know if they are alive or dead!
Do not guess which batteries to keep and which to throw away.This battery tester is a great gadget, and it really works. A little arm moves up and down to accommodate the battery, you can place your battery between the two points, and the easy to read display tells you instantly whether you have a dud, or if you can eke out another few minutes of battery life.
Features:
Features:
High quality
Can quickly test the capacity of your battery
Compact size and light weight
Perfect companion for travel
Double easy-to-read color-coded scales indicate power level
One movable arm to accommodate the battery
Two buttons on the side for testing 9 volt batteries
Test multiple sizes of batteries in one unit
Dimension: 10.5*4*2.5cm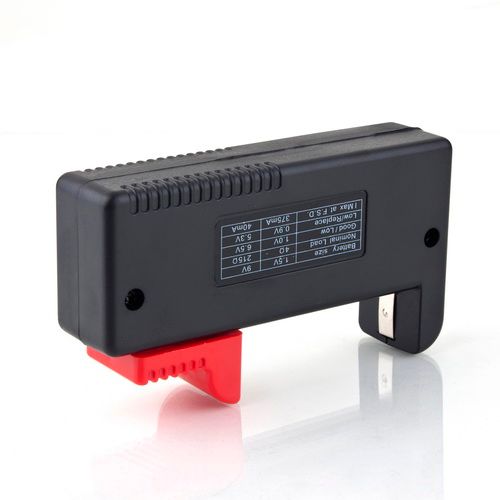 A very compact, portable and useful gadget, must have for every home and office.

Tests all kinds of batteries:
AA (pencil cells), AAA, 9V batteries all kinds of button cells.

Self Powered - Does not need any additional power source to work.
Easy to read, colour coded meter indicates power level
Three result: red=replace, yellow=low power, green=good
Double easy-to-read color-coded scales indicate power level
Easy one push test - Just fit the battery in the sliding arm, and the scale will move to show the power level. For 9V batteries use side panel contacts.
If needle does not move,check that battery is touching both contacts before assuming that it is completely dead.
The battery tester may be used to test the following sizes:
1.5V:
AAA, HP16, MN2400, R03
AA, HP7, MN1500, UM3
C, HP11, MN1400, SP11, LR14, UM2
D, HP2, MN1300, SP2, R20,UM1
9V: PP3, MN1604, 6F22, 006P
Specifications:
Item size: 110*59*25mm
Net weight: 51g
Color: Black
Packet content:
1 x Battery Tester
NOTE:
The battery tester is activated by the battery being checked. Keep test times as short as possible, to avoid unnecessary battery drain.
Write a review
Your Name:
Your Review:
Note: HTML is not translated!
Rating:
Bad
Good
Enter the code in the box below: