Glass Digital Weighing Machine
Brand:
My Value Store
Product Code:
MVS0072
Reward Points:
15
Availability:
In Stock
Price: Rs.706.82
Ex Tax: Rs.599.00
Price in reward points: 950
PRODUCT INFORMATION
Glass Digital Weighing Scale
(GIVE YOU HEALTH A STANDARD EVERY DAY)
This stylish bathroom weighing scale is a must for every home. Monitor your health, Monitor your weight. This one measures your weight in Kilograms (KG) or in Pounds (Lbs.) at reliable digital measurements every single time. Very accurate; Features a thick tempered glass that is virtually unbreakable with normal use (and normal human being use, 330 lbs capacity). Also this one holds the weight once it is counted for few seconds & then renew it to zero
This has an Auto OFF feature which makes it save on the battery life & once you step in it starts weighing automatically.
Runs on 1 Button Cell (Included)
Please Note : For correct results whenever you weigh first tap on the machine with your foot to switch it on & let it come to zero (in less than a second) & once zero then weigh, the result would be the correct one.
Features:
Equipped with a high precision Strain Guage Sensor
4MM Tempered Safety Glass
Size of the LCD digits : 20 mm
Auto Zero resetting/ Auto Off
Low Power Indicator / Over Load Indicator
Capacity : 150 Kg (330lb)
Division :d=100g(0.2lb)
Advice for Use & Care :
Put the scale on a flat & hard Surface
The Glass will be slippery when it is wet. So keep it dry.
Keep the scales in a dry place to protect the electronics
Do not use abrasive cleaners
Do not use for Legal Trade
Not for Business Counting
Switch Between measurements in Kgs or Lbs or OFF Mode
Dimensions :
Diameter : 33 cms
Glass Thickness : 4 mm
Height on Floor : 3.5 cms
LCD Display 6cm (Length) X 2.5 cms (Height)
LCD Digits Height : 2 cms
Black Body & Black Ceramic Plate.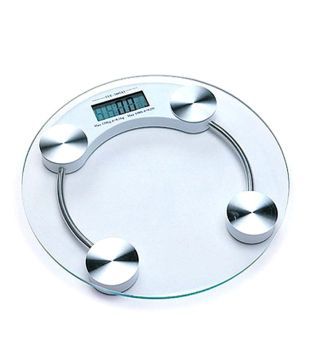 Write a review
Your Name:
Your Review:
Note: HTML is not translated!
Rating:
Bad
Good
Enter the code in the box below: