Slimming Vibra Sauna Belt Magnetic Body Massager
Product Code:
vibra
Reward Points:
16
Availability:
Out Of Stock
Price: Rs.725.00
Ex Tax: Rs.725.00
Price in reward points: 800
SAUNA SLIMMING VIBRATE BELBODY MASSAger
DESCRIPTION OF SAUNA SLIMMING VIBRATE BELT
Sauna Slimming Vibrate Belt , Eliminates superfluous fat and beautifies figure You can lose weight and ease muscle pain while sitting in your own homes Helps maintain health and tender skin Sweats away unwanted fat Magnetic & Vibrating , back and hips Improves circulatory system of body. This is Flexible Magnetic & Vibrating Sauna Belt in One Size Fits All with Secure Velcro Closure. Adjustable Heat Regulator. Instruction Booklet & Measuring Tape included. Massage therapy - the massage ball consists of motor by which circular vibrations are generated which reduce fat from Tummy, Hips, Thighs and Buttocks or Any other place. The Magnetic Therapy improves Blood circulation thereby avoiding clotting and removing excess of calcium, cholesterol and impurities from Veins. Acupressure Therapy - This is the Chinese method to relieve body pain. When pressure is applied on areas of pain, it will simulate the energy flow and Vital Organs in the Areas experiencing pain will become free from energy providing treatment.
RODUCT SUMMARY OF SAUNA SLIMMING VIBRATE BELBODY MASSAGER
· Key Feature: Lose weight and ease muscle plain, portable and comfort to use everywhere, great for abdorner, waist, back and hips.
· Type : Automatic Massagers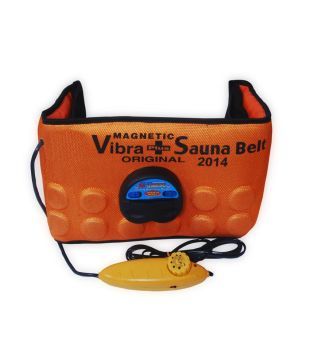 Write a review
Your Name:
Your Review:
Note: HTML is not translated!
Rating:
Bad
Good
Enter the code in the box below: